C LASIK the customised lasik laser surgery procedure
 
WHAT IS C-LASIK [Wavefront Guided Treatment]
C lasik or customised lasik laser sugery is the very latest development in laser eye treatement .It is a system that takes LASIK to a new frontier. It is the fully integrated personalized correction system that helps patients achieve better quality of vision.
Through wavefront-guided customised ablation,this latest advancement in refractive surgery enables the treatment to be personalised to individual patient.Higher order aberration,ie irregularities of the eye can be diagnosed with the aberrometer/machine and the treatment will then be calculated using an advanced software.
Personalised Vision Treatemants [customised lasik laser surgery]
C lasik or customised lasik laser sugery means that laser eye treatment is now unique to each eye. With C lasik, treatement is designed specifically to treat your individual vision erors.
C lasik/ customised lasik laser sugery  could improve the quality of of your vision. Available clinical data with us significantly more C lasik patients had less problems with night driving than patients undergoing treatement with LASIK.
Each C lasik assessment involves an extra diagnostic (screening) process to let the sergeon understand your vision better and select the most suitable treatmentfor you.

In the C lasik system the latest, most advanced technology is used to detect and treat very small vision erors.
The C lasik system has many advanced built-in safety features that help to optimise the success of your treatment.
C lasik customised lasik laser sugery , like standard laser treatement, is fast and virtually painless.
The C LASIK procedure is completely personalized – each eye has a different treatment designed only for it. Everything is based on your individual vision dynamics, so it's all about you.
Your eye and vision are like your fingerprint – truly distinctive and personal. It is distinctive because light is scattered unevenly to form a pattern that is unique to your eye and because your cornea has a unique shape. Each C lasik assessment involves an extra diagnostic (screening) process extensive enough to let the surgeon see every individual patient's unique optical characteristics.

With a C lasik assessment, We have an even broader base of information on which to decide whether your eyes are suitable for treatment, and to plan the right treatment for you.
HOW C LASIK [CUSTOMISED LASIK LASER] WORKS
C lasik software combines data from two different types of diagnostic equipment, then programmes the laser with your unique treatment, based on this data. Data is collected to assess the structure of your cornea (called topography). Data is also collected from a measurement of your optical system using the advanced wavefront technology – a measurement not normally taken with Standard Lasik treatments.
The next sections will explain how the topographer and wavefront work together to ensure the most thorough screening and treatment programme.
The wavefront factor: measuring your vision :-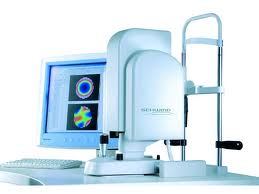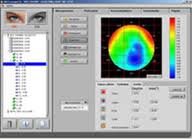 Wavefront was first developed by astrophysicists and has now been applied to C lasik. It provides the most technologically advanced measurement not just of standard visual but also of scattered light errors known as 'aberrations'.
Wavefront technology or aberrometry is based on the principle that if an eye had no imperfections at all, light passed through it would not scatter. But because no eye is perfect, light scatters to form distinct patterns – called a wavefront. Wavefront technology measures your personal/individual patterns and thus allows the surgeon to plan a treatment that exactly matches individual vision errors.
Your wavefront will be measured by the market-leading aberrometer, the Hartmann shack ocular Aberrometer from SCHWIND. The  aberrometer measures the eye from the centre to the outer edges (the periphery) of the pupil. This is especially important, because at night your pupils open up and more light is scattered in the periphery of the pupils.
Your surgeon needs to know as much about your night-time as your
day-time vision.
C lasik topography: assessing your corneal surface :- While it is important that your surgeon measures your optical system, it is equally important to know the shape of your cornea. This screening test enables the surgeon to assess the general health and thickness of your cornea and so to determine if you are suitable for laser eye treatment.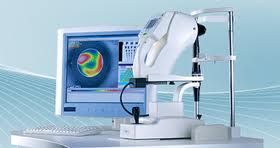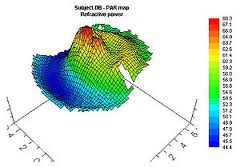 The C lasik system collects this information from over 9,000 points across the cornea, using corneal topography  (anterior segment analysis system) market-leading topographer. The system. creates a 3-D map of the unique imperfections of your eyes Then our Advanced  laser system process uses the digital information from that map to design a custom treatment for each of your eyes.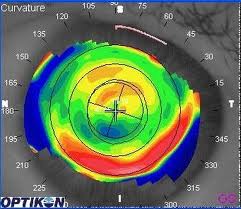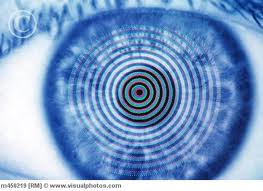 "C lasik" customised lasik laser sugery is the next step in Laser Refractive Surgery towards trying to improve upon Mother Nature's gift of vision. It also offers personalized and customized vision solution for the patient. "C lasik" thus holds the potential to deliver the "Eagle Eye Vision" to the mankind.